Welcome to 5 Elements Martial Arts San Diego! Thank you for visiting our site. We offer many different services for people of all ages. From adult self-defense classes to fun, focus-building lessons for your children, we guarantee that there will be something here for you. Please browse our site and feel free to contact us if you have any questions.
Kung Fu Classes
Our martial arts programs teach Northern Shaolin Kung Fu, Wing Chun style self defense, and Japanese style Jiu Jitsu. Northern Shaolin Kung Fu is a traditional style of Chinese martial arts that emphasizes long range techniques, quick advances and retreats, wide stances, quickness, and agility. It also develops balance, self control, and a strong understanding of body mechanics.
Wing Chun self defense is introduced in our teenage lessons but fully developed in our adult curriculum. This style focuses on practical application of self-defense moves and being able to fully protect oneself efficiently and effectively.
Grappling and ground self defense teach people how to react if you are knocked to the ground. While not necessarily a desired position, a grappling match can be very advantageous for the person who knows how to use the ground to their advantage. Our curriculum teaches all ages how to effectively prepare for this situation.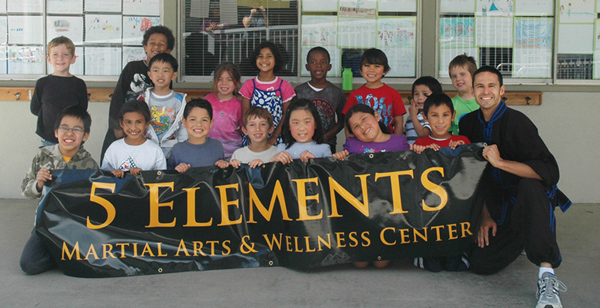 After School Program
Kung Fu and self-defense training for students in grades K through 5 provided by 5 Elements Martial Arts & Wellness Center. This top-quality martial arts programs is fun, safe, and structured to teach valuable self-defense skills while improving physical fitness and respect for others. Learning self defense gives confidence to students so that they can make good choices in life and stay out of trouble.
Special Workshops and Programs
Would you like to take a seminar on staying healthy as you age? What about learning to train with Chinese weapons? Perhaps you would like to learn Tai Chi! If any of these ideas sound interesting to you, our special workshops page has the information you need. Coming soon to 5 Elements Martial Arts San Diego: Learn yoga, Tai Chi, basic massage techniques and much more!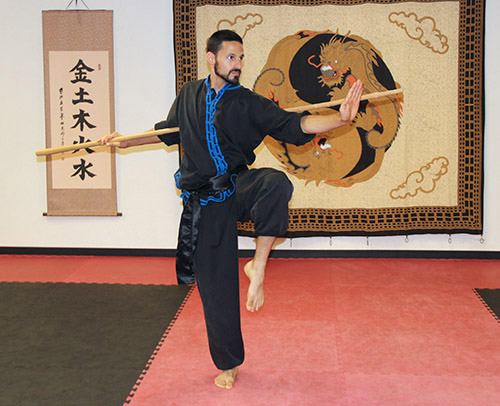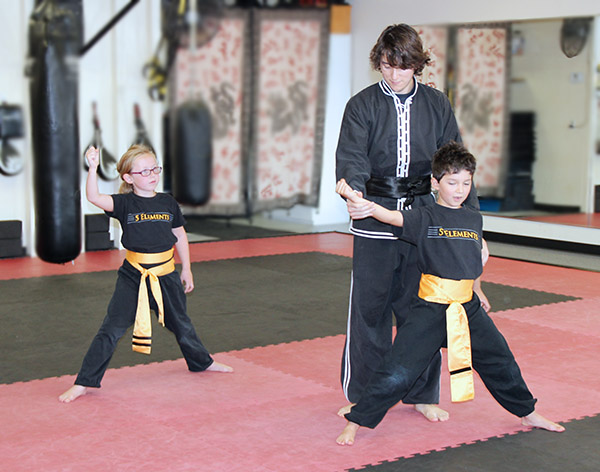 About Us
5 Elements Martial Arts San Diego is focused on enhancing the safety and well-being of the students at the school and the surrounding neighborhood. An important goal of our studio is to teach adults and children how to defend themselves and help them become better members of our community. When you train with 5 Elements, you train at a place where the owners and instructors truly care about you and how they can best serve you.